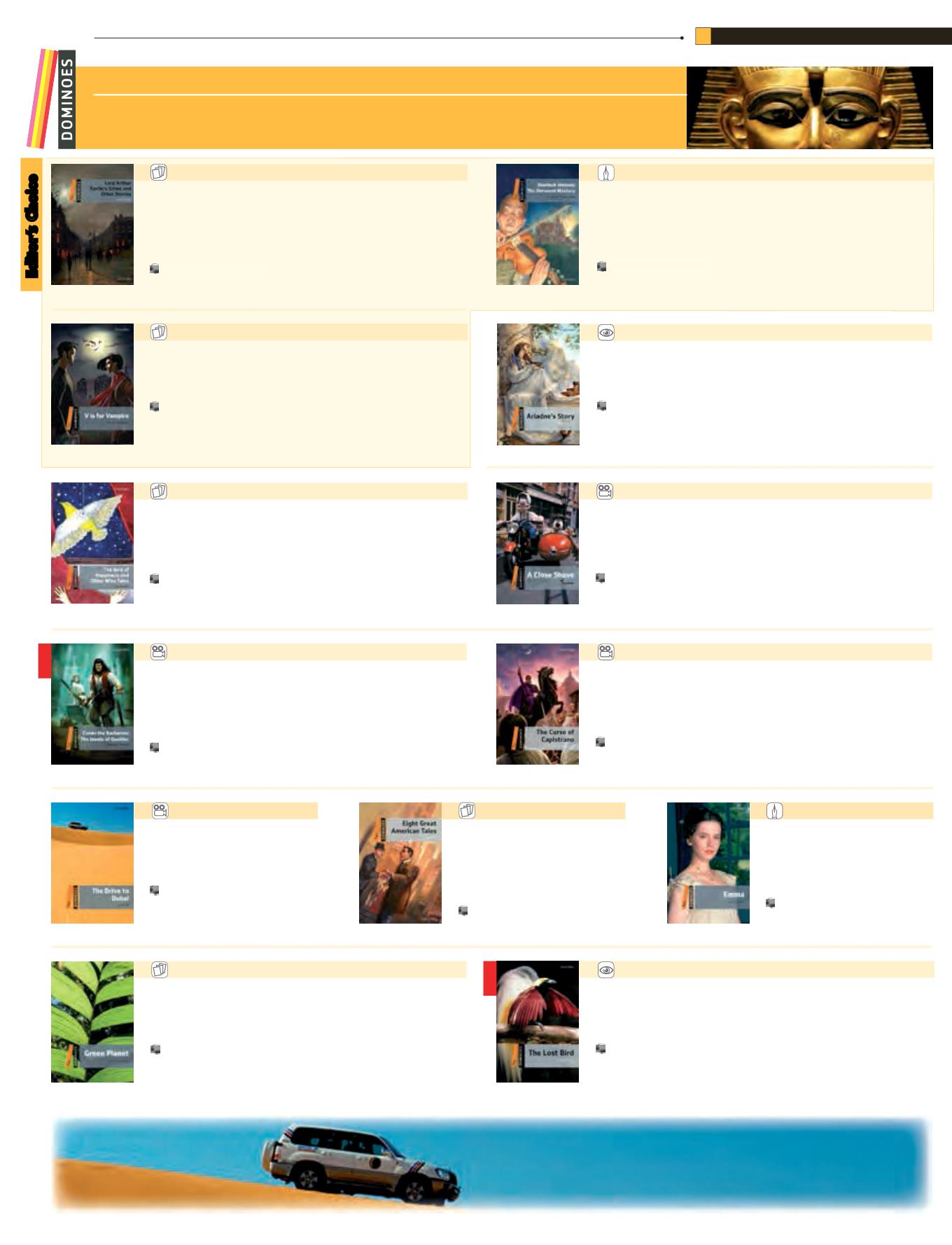 Editor's Choice
LEVEL 2
700 Headwords • CEFR A2 – B1 • Story length: 39 pages
Average word count: 9,000 • Cambridge English: Flyers
Cambridge English: Key (KET) • IELTS 3.0 – 4.5 • TOEIC 225 – 780 • TOEFL 24 – 86
THE LOST BIRD
HUMAN INTEREST
'He's great, Vera,' said Angie.
When Viktor Sarav takes a job at
Ballantine's, Angie and her brother
Don – the young owners of the New
York fashion company – are pleased.
But soon there are strange deaths in
V IS FOR VAMPIRE
ARIADNE'S STORY
HUMAN INTEREST
A CLOSE SHAVE
TM
Text adaptation by Bill Bowler
THE BIRD OF HAPPINESS
AND OTHER WISE TALES
British & American English *
Conan goes to the great, empty city
of Alkmeenon. He wants to steal the
Jewels of Gwahlur – but so does his
enemy, Zargeba. In the city, Conan
meets Muriela, who is clever and
CONAN THE BARBARIAN:
THE JEWELS OF GWAHLUR
THE CURSE OF CAPISTRANO
Text adaptation by Bill Bowler
GREEN PLANET
LORD ARTHUR SAVILE'S
CRIME AND OTHER STORIES
Text adaptation by Bill Bowler
The three stories in this book are
about ordinary people, people
like you and me; but they find
themselves in surprising situations.
Lord Arthur Savile, a rich man with
no enemies, finds out that he must
do something terrible before he
STORY COLLECTIONS
SHERLOCK HOLMES: THE
NORWOOD MYSTERY
Text adaptation by Jeremy Page
'For me, Watson, life is not so
interesting,' says Holmes. 'I loved
to read the newspaper, hoping to
find some news of an interesting
crime for me to investigate or
a dangerous criminal for me to
catch. Where are all those clever
MYSTERY & HORROR
MYSTERY & HORROR
TRUE TALES
STORY COLLECTIONS
TV & FILM ADVENTURE
TV & FILM ADVENTURE
TV & FILM ADVENTURE
EIGHT GREAT
AMERICAN TALES
Text adaptation by Bill Bowler
STORY COLLECTIONS
EMMA
Text adaptation by Barbara Mackay
WORLD LITERATURE
THE DRIVE TO DUBAI
TV & FILM ADVENTURE
Jemma is very excited when she
joins an expedition to the island of
Kamora. She hopes to learn about
doing scientific research, and to find
a very rare bird of paradise.
Text adaptation by Bill Bowler
NEW
NEW