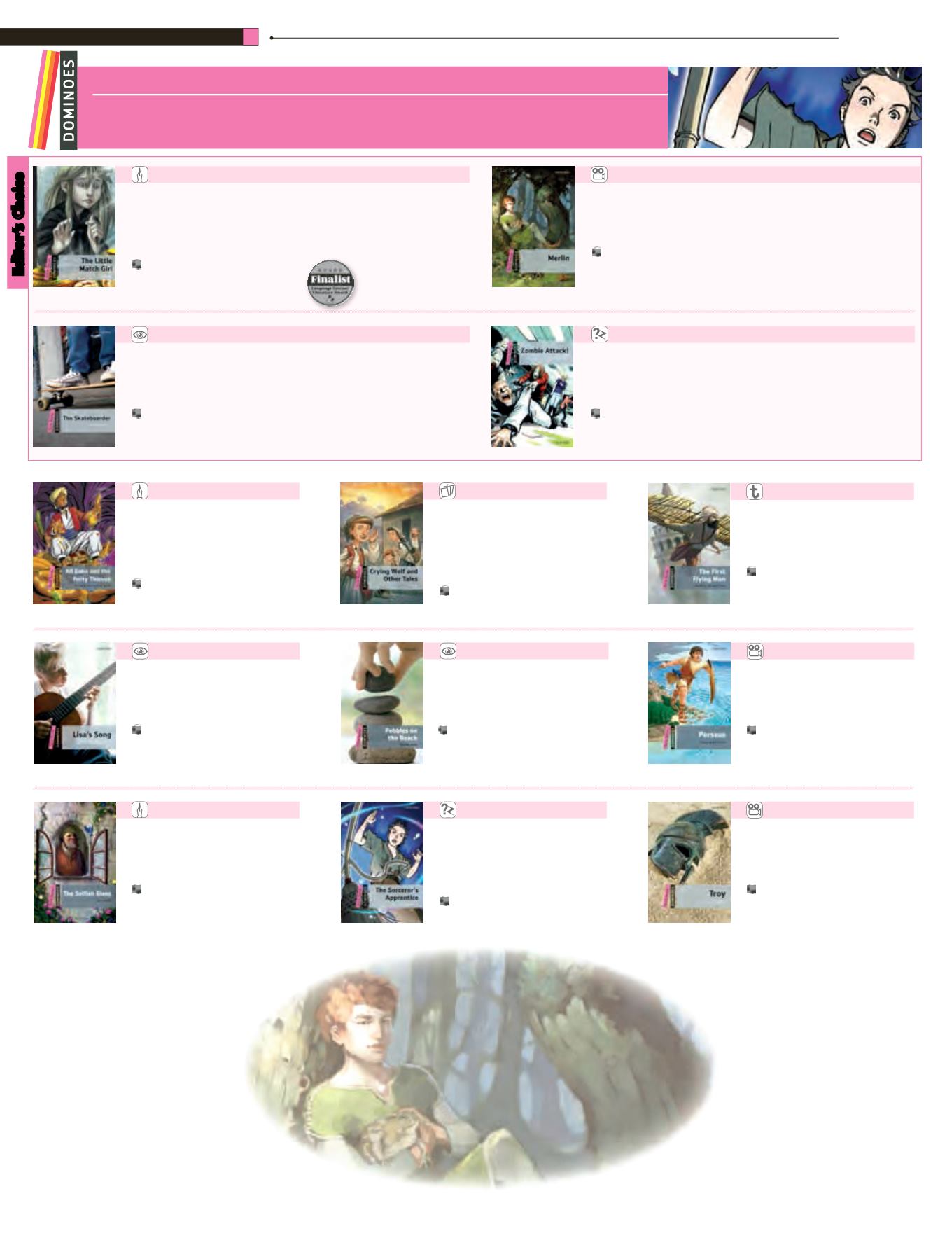 Editor's Choice
QUICK STARTER
Average word count: • 1125 Story length: 17 pages • Cambridge English: Starters
Cambridge English: Movers • IELTS 1.0 – 2.0 • TOEIC 120 – 215 · TOEFL 8 – 23
THE LITTLE MATCH GIRL
Text adaptation by Bill Bowler
MERLIN
ZOMBIE ATTACK!
THE FIRST FLYING MAN
Retold by Elspeth Rawstron
PERSEUS
THE SKATEBOARDER
ALI BABA AND THE
FORTY THIEVES
Retold by Janet Hardy-Gould
CRYING WOLF AND
OTHER TALES
Text adaptation by Janet Hardy-Gould
PEBBLES ON THE BEACH
LISA'S SONG
TROY
THE SORCERER'S
APPRENTICE
THE SELFISH GIANT
Oscar Wilde adaptation by Bill Bowler
'Be careful with Morfran,' Princess
Adhan tells her young son, Merlin.
Morfran, the son of the Enchantress
Ceridwen, is a bully. Then one day,
Merlin drinks one of Ceridwen's
magic potions. How can Merlin's
magic powers help him to fight his
It's a cold winter's day, and a poor
little girl can't sell any of her matches
to people in the street. She can't go
home with no money. But how can
'Professor Clark's work usually helps
people. But this is something new.'
Clark's helper – Tasha Kiara – is
telling Chaz – a local TV reporter
about the Professor's new serum.
Then an earthquake hits Clark's
California lab, and his serum brings
dead bodies in the cemetery alive.
'I love Owen's skateboarding,'
Hannah thinks. 'I want to jump and
do tricks, too.' When a skatepark
opens near her house, Hannah
is suddenly very interested
and cousin Justin feel about this?
TV & FILM ADVENTURE
MYSTERY & HORROR
HUMAN INTEREST
WORLD LITERATURE
HUMAN INTEREST
STORY COLLECTIONS
MYSTERY & HORROR
TRUE TALES
HUMAN INTEREST
WORLD LITERATURE
TV & FILM ADVENTURE
TV & FILM ADVENTURE
WORLD LITERATURE