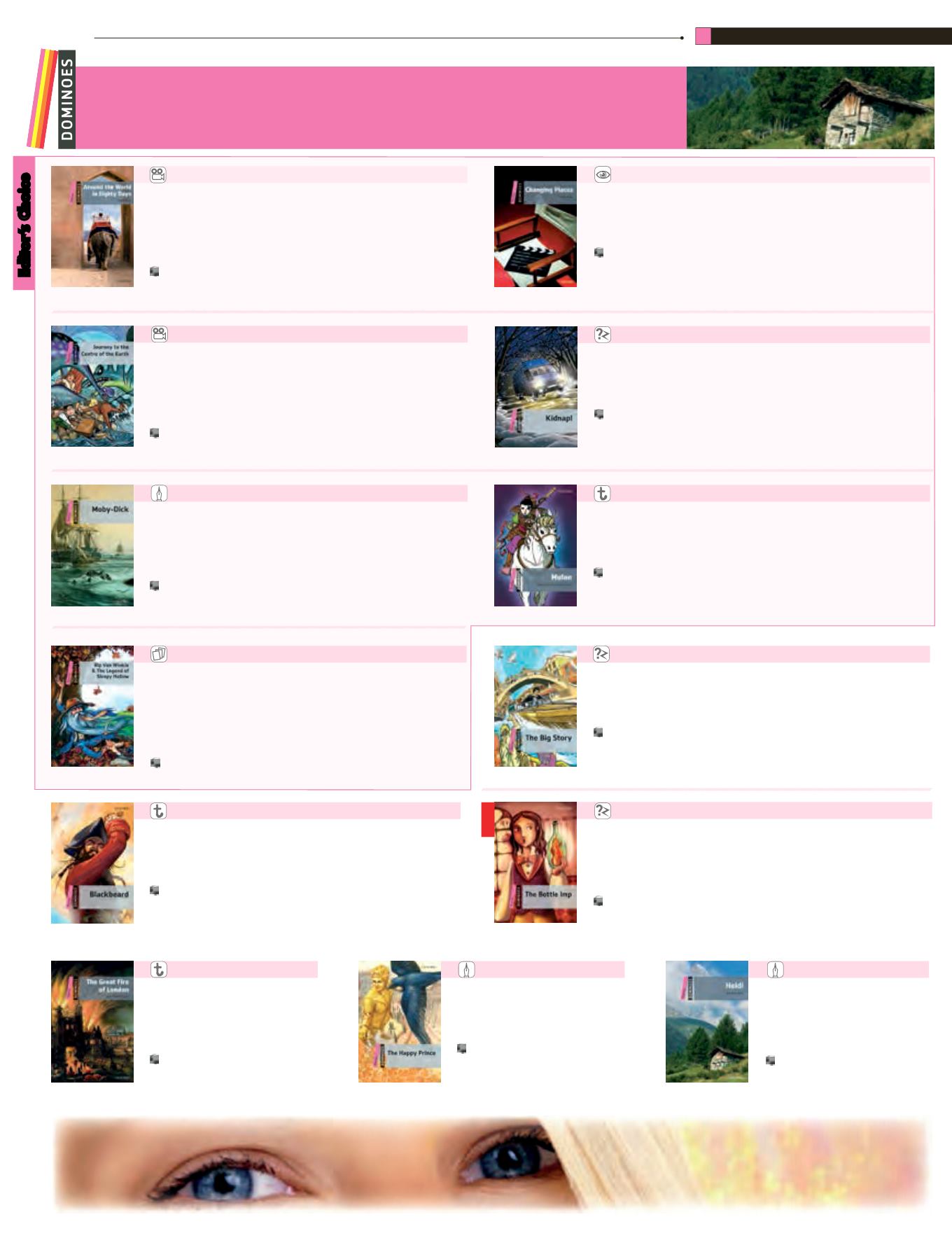 Editor's Choice
STARTER
Keawe buys a magic bottle that
can give him anything he wants.
He builds a beautiful house, falls in
love with and marries Kokua, and
is very happy. But if you have the
bottle and die, you go to hell...
THE BOTTLE IMP
Text adaptation by Rachel Bladon
TRUE TALES
MYSTERY & HORROR
Average word count: 2,250 • Story length: 27 pages • Cambridge English: Starters
Cambridge English: Movers • IELTS 1.0 – 2.0 • TOEIC 120 – 215 • TOEFL 8 – 23
Can Lidenbrock and Axel – and their
Icelandic guide, Hans – find the
centre of the Earth? And can they
all get home alive after their many
JOURNEY TO THE
CENTRE OF THE EARTH
Text adaptation by Merinda Wilson
TV & FILM ADVENTURE
One cold winter morning, a famous
movie star and her teenage daughter
are driving along a country road .
. . A blue van is waiting for them.
Tom is in the van, but he's not a
kidnapper – he's an artist.
KIDNAP!
MYSTERY & HORROR
When the Emperor calls every man
to join the army and fight the enemy,
Mulan's father is old and ill, and
cannot go. Wearing men's clothes
and riding a horse, Mulan leaves
her family and fights bravely for the
Emperor in her father's place.
MULAN
Retold by Janet Hardy-Gould
TRUE TALES
'My friend Queequeg and I are
looking for whaling work,' Ishmael
says. Ishmael is a sailor from New
York. With Queequeg the harpooner,
he takes work on Captain Ahab's
whaling-ship, the Pequod. The ship's
first mate, Starbuck, wants to hunt
MOBY-DICK
Text adaptation by Lesley Thompson
WORLD LITERATURE
In the first story, Rip Van Winkle
sleeps for over twenty years, and
then wakes up to a world that he
no longer understands. In the other
story, Ichabod Crane, the school
teacher, meets a headless rider in
the middle of a dark night.
RIP VAN WINKLE & THE
LEGENDOF SLEEPYHOLLOW
Text adaptation by Alan Hines
STORY COLLECTIONS
THE BIG STORY
MYSTERY & HORROR
BLACKBEARD
THE GREAT FIRE
OF LONDON
TRUE TALES
THE HAPPY PRINCE
Oscar Wilde adaptation by Bill Bowler
WORLD LITERATURE
HEIDI
Text adaptation by Paul Davenport
WORLD LITERATURE
AROUND THE WORLD
IN EIGHTY DAYS
Text adaptation by Bill Bowler
Phileas Fogg must get back to
London by December 21st or lose
all his money. With the help of his
servant, Passepartout, Fogg travels
in many ways – from train to
elephant – and he has some
surprising adventures on the way.
TV & FILM ADVENTURE
CHANGING PLACES
Hal works at the zoo every day and
his life isn't exciting – until he meets
Tim. Tim is a movie star. He has a
difficult life, and he is unhappy – until
HUMAN INTEREST
NEW