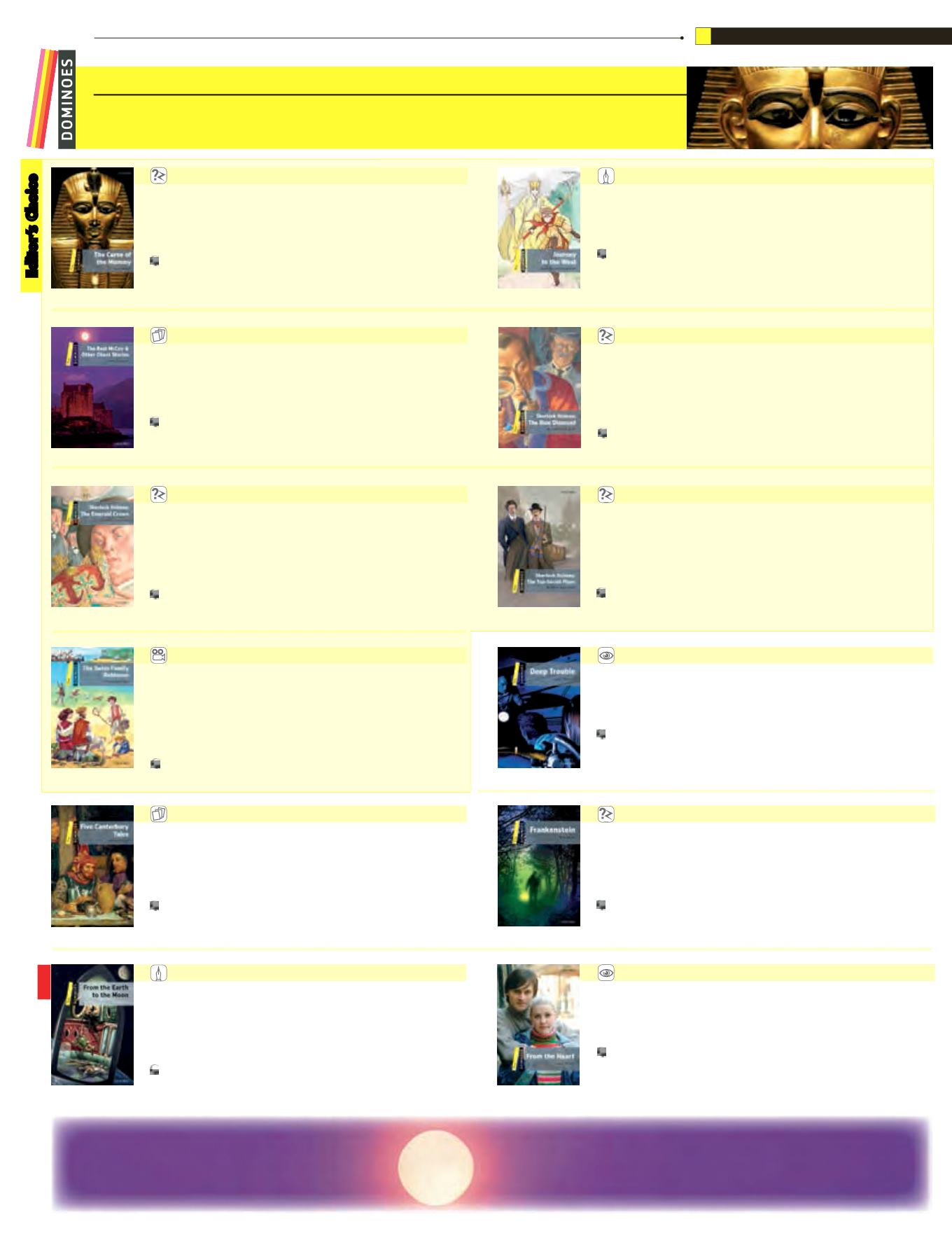 Editor's Choice
LEVEL 1
400 Headwords • CEFR A1 – A2 • Story length: 27 pages
Average word count: 5,000 • Cambridge English: Movers • Cambridge English: Flyers
Cambridge English: Key (KET) • IELTS 1.0 – 3.0 •TOEIC 120 – 545 • TOELF 8 – 56
FRANKENSTEIN
Text adaptation by Bill Bowler
MYSTERY & HORROR
'Are you scared, Gordon?' asks
Four friends talk of ghosts in a hotel
in Scotland. That night Gordon
sees and hears something strange
in his room. But is it really the ghost
THE REAL MCCOY
& OTHER GHOST STORIES
'He's an intelligent man. He was
once rich and is now poor. His
wife loved him once, but she
doesn't love him now. And he's
thirty or forty years old.'
One look at an old hat, and
Sherlock Holmes can tell you
SHERLOCK HOLMES:
THE BLUE DIAMOND
Text adaptation by Bill Bowler
MYSTERY & HORROR
a London Underground line,
top-secret plans for a new British
submarine go missing. But who
SHERLOCK HOLMES:
THE TOP-SECRET PLANS
Text adaptation by Jeremy Page
A man from the British royal family
leaves an expensive gold and
emerald crown at Holder and
Stevenson's – one of the best banks in
London. When someone tries to take
the crown from Mr Holder's desk, he
asks Sherlock Holmes for help.
Who wants the crown and why?
Only Sherlock can find the answers.
SHERLOCK HOLMES:
THE EMERALD CROWN
Text adaptation by Janet Hardy-Gould
'There's going to be a storm,' Father
told Fritz. 'Find your brothers and
A Swiss family are going to
Australia when their ship sinks in
a storm. After that, Mother, Father,
Fritz, Hans, Ernst, and little Franz
THE SWISS FAMILY
ROBINSON
Text adaptation by Alex Raynham
DEEP TROUBLE
FIVE CANTERBURY TALES
Text adaptation by Bill Bowler
THE CURSE OF
THE MUMMY
For thousands of years the dead
body of the young king Tutankhamun
sleeps under the sands of Egypt.
Then, in the autumn of 1922,
Howard Carter and his friends find
and open his tomb door. These are
exciting times, and Carter's young
helper Tariq tells the story in his diary.
But soon people begin to die.
MYSTERY & HORROR
JOURNEY TO THE WEST
Retold by Janet Hardy-Gould
'Tripitaka, can you go to the west
for me – and for Buddha?'
When the holy woman Guanyin
asks the young Chinese monk
Tripitaka to bring some holy
writings back from India, he says
'yes'. But how can he travel across
rivers, and fight terrible monsters
and demons, on his long journey?
FROM THE HEART
FROM THE EARTH
TO THE MOON
Text adaptation by Janet Hardy-Gould
It is 1865. Impey Barbicane and
J.T. Maston are very good with guns
and explosives, and want to do
something important – so they decide
to build a big gun and use it to go
to the Moon. But no-one has gone to
the Moon before, and many people,
like the great Captain Nicholl,
believe that it cannot be done.
WORLD LITERATURE
WORLD LITERATURE
STORY COLLECTIONS
STORY COLLECTIONS
MYSTERY & HORROR
MYSTERY & HORROR
TV & FILM ADVENTURE
HUMAN INTEREST
HUMAN INTEREST
NEW